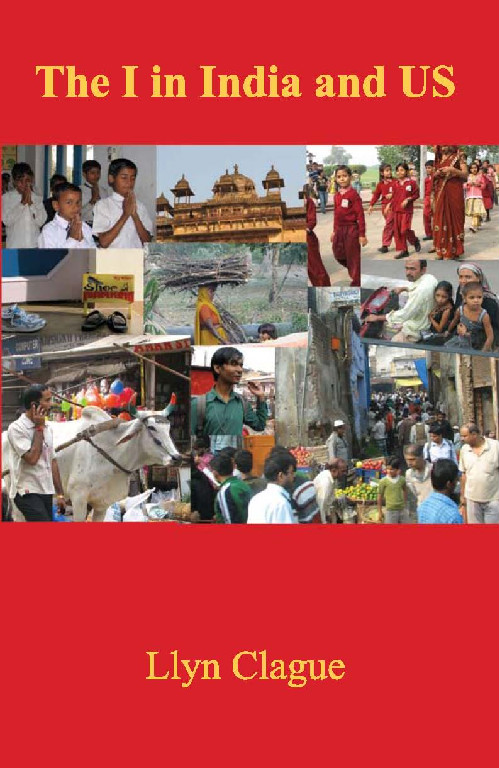 Click below to read selections from The I in India and US
I/We
Allure of the Other,
thrill of the alien –
I bring you flashes of India,
the land, the people, the there.
But why,
when it is so widely dismissed
as "all about me" – why poetry
about India?
Isn't prose –
descriptive, analytic –
better equipped, as language,
to convey the out-there?
Or can poetry –
more allusive than analytic,
daemonic than descriptive –
in flashes of India reveal landscapes
inside you?
Not only you: us.
In the horns of India,
can we hear blare in America?
In the strangeness of the Other,
glimpse familiarities We share,
intuit interiors that indicate who
We are?
The Himalaya Castle
Its name
hints at an aerie in the clouds,
its past
at smoky vistas of history.
Built in 1841
on a club estate owned by,
no less, a maharajah,
the hotel has no heat,
but "stately," high-ceilinged, dim rooms,
with heavy, old-fashioned keys.
Ghosts of British galas
gleefully haunt the faded facade,
and a venerable veranda running its length
gives onto a wide terrace of gravel and stone.
Once a history PhD wannabe,
I delight in visualizing mustaches and monocles,
teas, dances, dinners formal and not.
Scabbards hang beside blue legs,
and white taffeta and peacock hats
swirl in precise quadrilles.
A world vanished
yet imprinting an unmistakable mark:
"The English have left,
but they left us all the paperwork."
"Mussoorie," says a brochure coyly,
"was never an official summer capital,"
like neighboring Simla.
It "always remained unofficial –
for the affairs of the heart."
Too many men, too few women.
And the Himalayas.
The Gods
The earth itself is sacred, Robert says.
Families have lived on the same land for hundreds of years, ten, twenty generations.
We sit at two tables we have pulled together on the veranda.
It is empty, quiet, in the mid-afternoon, between lunch and dinner, Robert reads to us from the Ramayana.
The gods lived here, on this ground.
Not thousands of miles away, in some remote Biblical land.
Mother Ganga flows here, today, as she did five thousand years ago.
The Shiva-Ram-Sita stories took place on this ground.
The countless lesser and local gods, and their stories, exist on the earth we live on.
We sit in the afternoon quiet, and listen, our minds filled with the forests of myth.
India itself, in some versions, is a god.
Comments from Readers on THE I in India and US
"Llyn Clague's India poems show his keen and often irreverent powers of observation that evoke both the sensory and spiritual aspects of that fascinating culture." 
"The vitality, even visceral quality of Clague's writing shows through in every verse." 
"Encountering 'the other' — in another culture, another land, another people — and discovering 'the other' in the self." 
"The 'I' in the strange land; the 'I' in me, and us."
"An adventure of discovery — of the other, of the self."