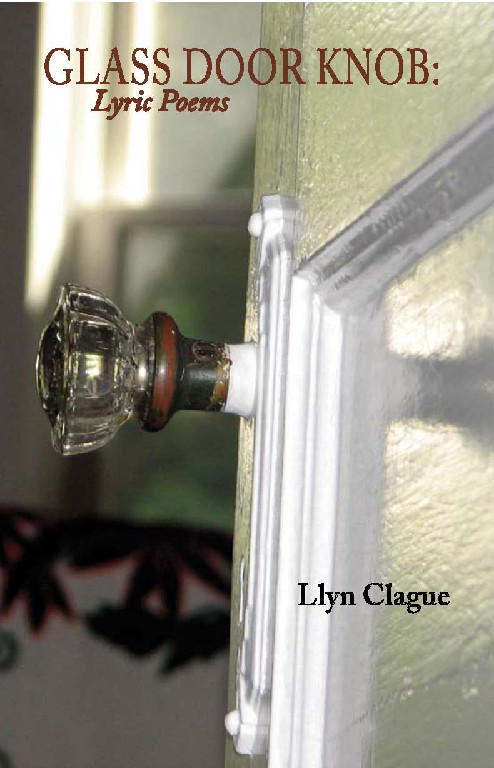 Click below to read selections from Glass Doorknob
Glass Door Knob
Old-fashioned as auntie's lace,
so different from modern brass –
a smooth surface reflecting light
like dull yellow glass: it slowly

draws you inside, like your heart
searching through your childhood
for a core you you half-remember –
where a dozen slanted facets
refract, and scatter, light.
Anywhere
Anywhere
in the middle of anything
a PR man's solemn declamation
(manicured fingers touching sincere left lapel)
of his client's love of winsome orphans
in the middle of anything
jagged edges of anxiety over your job
the trembling recognition of aging
anywhere
you may see, hand in hand, an electric couple
whispering smiling nuzzling sauntering
down the mere street
him gangly rakish, her russet petite
magnified leaf in razored clarity blurred tree
anywhere
a freeway-as-parking lot during rush hour
a movie line snaking around the block
in the middle of anything
him blond muscular, her tall black skinny
young in love with love, with each other, with leaf and tree
light quick itching absorbed exulting
her buzz-cut blue-eyed, her short and wispy
with love alive alive in love
anywhere
in the middle of anything
Anywhere.
Spring – spring!
Spring – spring!
How I'm ready for spring!
March, and still twenty degrees
at dawn, but so tantalizing
as day dawdles toward fifty at noon!
How I'm ready for tulips,
daffodils, banality of blossoms!
Twigs show the tiniest color –
Sprout! I cry. Sprout, sprout!
How I'm ready for the ice
on the lake of intellect to break up!
Rivers – rise! Flood! Carry floes
of frozen analysis away!
How I'm ready for re-birth!
Beetles, bugs, pups, cubs!
Clutch of clichés, brood of eternal
urges! In seven decades of spring –
never have I been so ready!
Comments from Readers 
on GLASS DOOR KNOB 
"This collection is Clague at his best."  
"His poems are, by turn, whimsical, euphoric, poignant, and wistful."  "
A must-read — and what a joy!"
"A marvelous collection.  Great scope and variety."  
"A poetic voice of many registers, by turns funny, touching, searing."  
"Endless pleasures and surprises." 
"I forgot how much I enjoyed this book!"