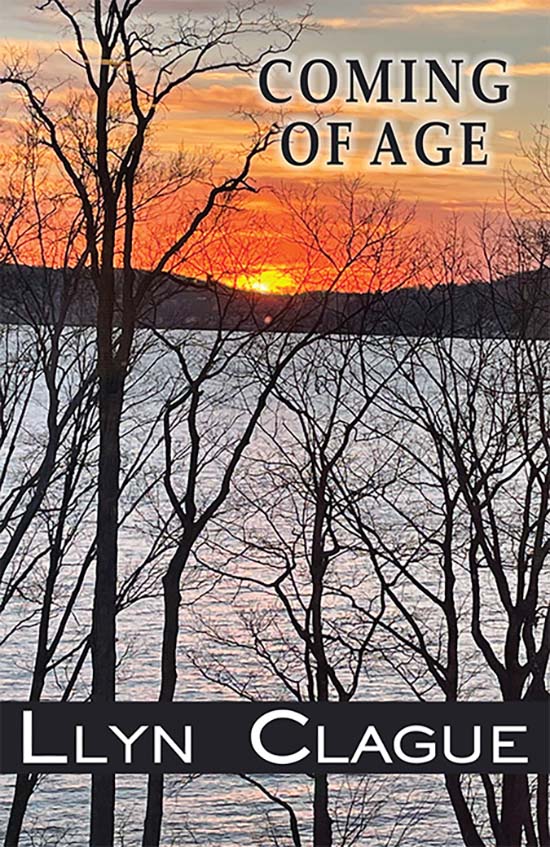 Click below to read selections from
Coming of Age
Coming of Age
It's what you do
in your eighty-nineties, in the fragilities
of those few who stumble over the slim jamb
into a personal new century.
In the teens? Bah. Hardly weaned,
acne-ed, pimply, chicken-breasted, you're barely
out of your parents' barn,
pecking in the yard, beating your wings at fences.
In the twenties? New love shimmers
before your eyes, and may (dear God) not be a mirage.
In your April, winter birds north, rains immerse
your green imagination.
In the thirties and forties? Wrenched
backward, into babydom, childdom, soccer games, dance lessons,
or (or and) the mad humdrum career busy-ness,
and maybe the volcano of divorce, and re-search.
At 50? Barely at the edge –
tinting your hair, timing your reps, pretending you're still young ("at heart");
at 70, a newby, new knee, still trying to hedge
as the row of bottles of pills stretches….
Of age, when you,
looking back, sideways, forward, and, finally, out
into life, life you love, you come to accept
it will be without you,
without bitterness.
Old Friends
"You make a lot of friends here," our dinner host says.
He passes a tiny dish of packaged European chocolates:
a minute element of elegance above the linen,
beyond two bottles of wine, white and red.
"Then they die, and you go to their memorial services."
I flash the Gathering Room, a hundred or more residents,
son and daughter, grandchildren, great-grandchildren.
Piano music, subdued, a favorite of the deceased.
"And you learn all kinds of wonderful things about them …"
Achievements, of course, awards, offices, chairs.
Also kindnesses, humor, lovability – all the things
we want them to say about us (a good person, really I am too).
"… that you wish," he finishes, "you'd known before."
Through A Door
      1
Frame: up, over, down.
Out front, haze.
Behind, the jamb.
Like a tic, again
and again I think,
Don't let the screen
bang you on the fanny.
Funny? Not funny.
Joking? Deprecating.
Persiflage, as camouflage.
      2
Eight decades.
From a million moments –
sledding with my screaming
delightedly daughter,
reading a bedtime story
to my rapt young son,
treading winter concrete
to my rock-and-rattle commute,
my loves, my jobs, my dreams –
the museum of a life.
Carpet to crossroad or stair,
elevator, Bistro or cubby –
path to new interests (oh, not fidgets);
new people, possible friends;
a new life; possibly, a new self.
      3
I do not come clean.
Llyn Clague
Through A Door, p. 2, continue stanza
I carry a carousel-ful –
a case of suits,
backpack of attitudes,
handbag of arguments,
and boxes and boxes of crockery.
A steamer trunk of self,
packed with sheets of high regard,
blankets of woolly good deeds,
quilts of the finest intentions,
and mixes and mixes of trickery.
Wire
The will to live here
is thin and taut as wire.
It vibrates in the wind,
keening, an ethereal sound.
It pulses with electricity,
oscillating through fierce ambiguity.
These people, we – yes, me included –
bear a silent plea.
Don't look at our limps and lisps,
don't listen to our croaks and complaints.
Hear defiance in our gasps and wheezes,
radiance in our ancient stories.
The cry, Let me be free, let me …
as I once was, in my head and heart –
I, still, will, to, be.
Thin and taut as optic fiber,
the will to live keens, and vibrates.
What they're saying about Coming of Age:
"I don't know how you did it, but you captured every moment and experience. It's as if you were reading a universal diary. Loved it."
" Great ideas, sentiments, images, and rhythm. "
"…I know you're ahead of me by some years – but it all resonated… "
" This is truly a clever piece of writing – and such fun to read and reread."